Best Driver for Older Golfers – One of the greatest misconceptions in the game of golf is that as a person ages their game gets worse.
Throughout my life, being around this game, some of the best shots I've ever seen played were completed by OLDER golfers.
Let's face it, generally speaking, senior golfers have much more time to play than a 40-year-old working father of three children. They can use that time to their advantage and hone in on their short game.
The one constant complaint from seniors is that once they hit a certain age the distances just start to disappear. This is very common. As our bodies age, we just can't swing the club as fast as we once could.
Table of Contents
ROUND UP
1.Cobra Golf F-Max
At the top of our list is the Cobra Golf 2019 F-Max Superlite Driver. The reason this club sits at the top is the fact that everything that could have possibly been done to make it faster and have a better swing weight for the senior golfer has been done. Not only is the grip lightweight, but so is the shaft and the grip as well. Senior golfers that are lacking distance in any way will be more than happy with the results of the F Max Superlite Senior Driver.
The Cobra F-Max Superlite is designed for senior golfers that are lacking clubhead speed. If the distance is becoming a problem in your game, the Superlite is designed to get it back. The lightweight feel, the E9 clubface, and the forgiveness of the clubface give you lots of performance.
Pros & Cons
---
Lighter overall weight-18 grams of weight saving performance is achieved through a 6 gram lighter clubhead, a 7 gram lighter grip, and a 5 gram lighter shaft
Forged E9 face technology-a thin forged Titanium face insert is engineered with E9 technology to enhance ball speed and distance across a larger area of the face
Back/heel weighting-an ultra-forgiving construction features an internal weight pad positioned low, back and heel ward that promotes higher launch and straighter ball flights
Crown alignment feature-a subtle crown alignment design assists with a square setup at address and provides a visually pleasing detail with it being distracting to the Eye
Offset or Straight neck drivers-golfers can choose between an Offset design for maximum draw bias or Straight neck design for those that prefer a tradtional look at address
---
2.MAZEL Titanium
Mazel's line of budget drivers has grown in popularity in recent years. Sporting a titanium head and an assortment of exciting features, we were pleasantly surprised by how well this driver performed on the range and course.
The Mazel Titanium 460CC golf driver has been engineered by use of CNC Cup Face technology. The edges of the face go round the crown and the sole of the club, thus the cup face phenomenon.
The mathematical accuracy, with which the face is engineered, facilitates the reduction of the thickness of the clubface. This resultantly also helps with a high rebound structure.
The Mazel Titanium 460CC thus becomes more efficient at delivering fast ball speeds across the face and especially on mishits. While this occurs, the club is still capable of long carry distances on average.
For senior golfers that are losing a bit of distance, the Mazel Titanium provides a low, deep CG that launches the ball off the face with a low spin. In fact, we took the height of our tee down just a bit in order to maximize carry, something you'll need to adjust, possibly, after purchasing this driver.
If you are struggling with forgiveness, the Mazel Titanium performed beautifully on shots that leaked toward the toe. We found the club maintained our target line, helping us keep the distance we needed to attack the green.
Pros & Cons
---
⛳CUP FACE DESIGN:CNC Cup Face with high rebound,more efficient at delivering fast ball speed across the face, especially on mis-hits for increased average distance,also sound crisp.
⛳SUPER LIGHTWEIGHT HEAD:Strong Titanium face has a variable thickness that reduce driver weight,providing faster swing speeds off the tee offer.
⛳LARGE SWEET SPOT:460CC deep face expands sweet spot for maximum distance from anywhere on the face.
⛳LOW CENTER OF GRAVITY:Back center of gravity zone weighting removes weight from the crown to reposition it low and back in the head for a low,deep CG.
⛳SPEED CHANNEL:Speed channel is an engineered trench that surrounds the club face to help minimize face thickness and provide increased ball speeds across the face for incredible distance with forgiveness.
---
3.TaylorMade Golf M6
Starting with the clubhead, the M6 has several features that got us head over heels excited as we tested the driver.
First, the M6 is incredibly long due primarily to the new Twist Face technology on the clubface. Simply put, the Twist Face allows golfers to launch the ball with more speed and less spin for more accuracy.
Next, we loved the adjustable loft sleeve that allowed us to dial in the driver's perfect offset and launch angle. A sole weight at the rear of the clubhead, but directly behind the center, provided exceptional launch at impact and really grounded the club for creating a nice feel as the ball leaves the clubface.
If there is a warning on the M6, realize that this driver is an excellent piece of golfing equipment that isn't for the timid. If you are a beginning golfer or have trouble getting the driver above your waist on the backswing, you should avoid this driver.
That said, if you are looking to boost your distance strictly through equipment purchase, the M6 should be at the top of your list.
The M6 driver is one of TaylorMade's newest drivers and marks a tremendous advancement for the company.
The M6 is a delightful fusion of cutting-edge golf technology and adjustability that offers golfers what they want most off the tee; distance and forgiveness.
Pros & Cons
---
TWIST FACE: Twist Face is a revolutionary face curvature with a corrective face angle on off-center hits, engineered to reduce side spin and deliver straighter shots
MULTI-MATERIAL CONSTRUCTION: New head design with a deep face and larger carbon crown provides optimal distance with excellent playability
ADVANCED SPEED POCKET DESIGN: Improved slot flexibility for a larger COR area and better off-center performance, especially on low-face strikes; New TPU slot insert is more flush with the surface for improved turf interaction
Country of Origin:China
---
4.Cleveland Golf Launcher
Senior golfers need to hold onto as much swing speed as possible as they age. Drivers, like the Cleveland Launcher HB Turbo, help keep the yardage extended through a well-crafted design that maximizes yardage off the tee.
The best feature for seniors on the Turbo is the lightweight hosel and clubhead. Cleveland has redesigned the latest model of the Launcher by moving the weight around the perimeter of the clubhead for faster swing speed. What's great about the Turbo is that you don't have to worry about the club disappointing you because the driver is so well made and fun to hit off the tee.
There are three loft options available with the Turbo. A 9-, 10.5-, and 12-degree option is offered, and if you are struggling to get the ball in the air consistently, the 12-degree choice will be best to carry in your bag.
Another positive feature is the deep weighting in the head for a higher launch. The adjustment helps improve the carry of the club while maximizing ball speed after impact. The patented HiBore Crown, another Cleveland staple, improves forgiveness and response.
If there's one central disappointment with the Turbo, it's the lack of adjustable features. If you are an advanced senior golfer, you'll most likely want a driver that allows workability for your game, so this might not be the best driver for you.
Pros & Cons
---
Turbocharged face - each launcher HB Turbo iron features a turbocharged, high strength steel face that is thinner and hotter for increased ball speeds and explosive distance.
Hollow construction - fully hollow construction along with internal stabilizing ribs provides ultimate forgiveness.
HI bore Crown - the redesigned HI Bore Crown features low, deep weighting to produce an easy to hit, high ball flight.
Progressive hollow shaping - progressive shaping provides a smooth transition from hybrid-like long irons to iron-like short irons. It's a seamless changeover with forgiveness where you need it and control where you want it.
Department Name: Mens
---
5.Callaway Golf Rogue
Callaway's Rogue series gets an update for golfers who struggle with the slice.
The Rogue features all of the tremendous technological advancements that the Rogue series is known for starting with the company's patented Jailbreak technology. This feature repositions the weight in the driver to enhance the golfer's swing speed for the longest drives you've ever hit.
Another fantastic feature of the Rogue is the loft sleeve on the hosel. Golfers can dial in various options that will reduce or enhance ball height, giving golfers ultimate control of their shots.
Finally, the head of the Rogue has been re-designed to minimize drag on the clubface for more clubhead speed. Remarkably, the company asked for the help of Boeing engineers, who regularly work with planes, to make the Rogue more aerodynamic.
Once we got the Rogue to the range, we noticed that the club stayed accurate to our intended target line.
So, not only does the driver keep your drives straight, but the feel of this club is something all golfers who want to hit the ball solidly should experience. Also, the Rogue kept them controlled on shots that were struck off-center from the face by reducing that ugly side spin.
For senior golfers looking to get a boost on their distance by lifting the ball with more consistency, then the Rogue is a wonderful option.
Pros & Cons
---
The new Rogue ST MAX Driver is Callaway's fastest, most stable driver ever.
The groundbreaking new Tungsten Speed Cartridge structure places up to 26 grams low and deep in the driver head. This increases speed on off-center hits and provides more forgiveness through high MOI.
Their patented A.I. designed Jailbreak Speed Frame provides stability in the horizontal and torsional direction. Callaway has speed tuned the construction, shaping, and positioning to deliver even more speed across the face.
As the industry leader in Artificial Intelligence, Callaway added launch and spin to ball speed in our optimization formula. This new formula lowers spin on the face, allowing us to add forgiveness to the driver.
Titanium unibody construction provides stability and lowers center of gravity, while our proprietary Triaxial Carbon crown and sole allow us to save weight. This weight is redistributed to increase forgiveness with high launch and a slight draw bias.
---
6.Pinemeadow PGX Offset
If you are on a budget and tend to slice your drives, the good people at Pinemeadow have created the PGX Offset Driver.
This matte black driver utilizes a neon green indicator to give you a line to the center of your clubface.
As far as the club goes, what you see is what you get. This entry-level club isn't sophisticated like the TaylorMade M-series, but it is very inexpensive, and for the money involved, it does admirably on the course.
The sweet spot on the PGX Offset is significant, and if you hit the ball in the middle of that area, you'll see a drive that stays left of the target with distance.
We have several nagging complaints about the club. The first gripe is that the loft of the clubface of the PGX Offset is only available at 10.5 degrees. For older golfers, we'd certainly like a 12-degree option.
Also, the club is only available in a regular flex option. So, if your swing is slower, you'll have to have a golf professional replace the shaft with a senior flex edition.
If you have a beginning older golfer in your family looking to pick up the game, then the Pinemeadow PGX driver isn't a bad place to start their club set.
Pros & Cons
---
Offset anti-slice Technology
460Cc clubhead
Headcover included ; The matte black finish and white and green gives the driver a clean and sleek look.
Club 1
The offset of the driver helps you square the ball at impact. Having a square face at impact is important and will result in straighter drivers.
---
How to Choose the Best Golf Drivers for OLDERS
Design
For OLDERS golfers, having a driver that is well designed and well made is very important because the golfer always needs to have confidence in their opening club.
This rule is especially true for drivers. No club in the bag hits the ball further than the driver, and the golfer certainly needs to be comfortable when standing at the address, moments before the tee shot.
Great driver design is also crucial when the golfer places the club behind the golf ball. The driver's head must have some clear indicator letting the golfer know where the center of the clubface is in relation to the golf ball.
The placement of the indicator is why most driver heads are black with a white or vibrant colored mark, such as an arrowhead shape, that allows the golfer to line up their drive quickly and directly in the center.
When you first hold a driver, give it a look at the address and notice the contrasting elements that will allow you to hit the ball with ease. This is the importance of good design.
Feel
The moment you hit a drive, the club responds to impact. This response is what golfers are talking about when they talk about the "feel" of a golf club. Again, the feel of a driver is vital when we discuss the comfort level and confidence a golfer has in their golf club.
Once a golfer purchases any club, whether a putter or driver, they begin to accumulate experience with the club on the course or driving range. It is essential for senior golfers to practice with their clubs to establish their routine ball flight and shot shape when using the club.
By having a sense of feel with a driver, a senior golfer will know when something is not right either with their swing or, perhaps, the club itself.
Feel can be established quickly with a driver or any club if you spend the time to understand it by hitting hundreds of balls. For senior golfers looking to push back the hands of time, the time spent practicing and knowing the club is well worth the investment.
Forgiveness
For senior golfers who have a mid-to-high handicap, the forgiveness of a driver is a crucial element to know. Most golfers who have double-digit handicaps have trouble hitting the center of the clubface.
Since most manufacturers understand this, they have made clubs with more extensive sweet spots that reduce the sidespin that creates slices and hooks.
All of this technology has been created to help you hit the ball straighter on your off-center strikes. Golfers who swing their driver slowly will appreciate the adjustments because that will allow balls to fly straighter and farther while fighting that distance-killing side spin.
So, what are you looking for in a forgiving driver? Forgiveness can come in one of two ways. The first way is through the construction of the driver, especially if the fixed clubhead has no adjustable features such as moveable weights or loft angles on the hosel.
The second way to improve a driver's forgiveness is through adjustable features. By moving weights far apart behind a clubface, you can keep the driver more stable through the impact zone, limiting side spin.
Loft Options
One of the biggest mistakes that senior golfers make when buying a new driver is purchasing a driver that does not have enough loft. Yes, Brooks Koepka can use an 8-degree driver and crush 325-yard bombs down the fairway, but his swing speed is one of the best in the world.
Loft equals ball height, and it is a vital necessity to maximize the height of your drives when you swing slower. Giving the ball the best chance to get down the fairway means the golfer can hit the ball hard while allowing it to get into the air at the proper launch angle.
Senior golfers who need all the help they can get would do themselves a huge favor by finding a driver with a loft that starts no lower than 12-degrees.
There are certainly exceptions to this rule of thumb, but you need to ensure your swing speed is still registering above 85-90 MPH before you buy a driver with less than 12-degrees of the loft.
Adjustable Features
When trying to maximize each shot, especially off the tee box, it certainly helps if you have options with your equipment. Manufacturers have long tried to discover new ways to help the golfer adjust their clubs while on the course, and in the last decade, they have been incredibly successful. Some manufacturers have also decided to keep their drivers simple, such as the GX-7.
There are two avenues that companies have circled to help you improve your drives through your decision-making.
The first is with adjustable weights that shift behind the driver's clubface. Golfers can move the weights to maximize forgiveness by setting them wide apart or focusing more energy behind the golf ball by putting them together for added distance.
The second avenue is through an adjustable hosel that can shift the loft on the clubface for more ball height via launch angle.
An adjustable club does not completely overrule a fixed hosel club as the best option for your game. If properly fitted, a fixed hosel club will undoubtedly allow you to hit the best drives possible for your skillset.
But, if you love to tinker on the range and discover more distance and height on your shots, then an adjustable driver can give you the control to shape your drives.
For the shaft of a driver, you want to know the length and flex rating before you even consider purchasing the club.
The length of the shaft is significant when determining swing speed. For senior golfers and players with slower swing speeds, it is crucial to see if a shorter shaft would increase MPH because, in most instances, it will.
Most drivers off the shelf are around 45 inches, but studies show that a shaft of 43 to 44 inches could increase swing speed by a few MPH, making the perfect recipe for longer drives.
Flex rating is determined solely by how fast you swing the club. Extra-stiff shafts that pros like Phil Mickelson hit are for golfers who can generate up to 120 MPH with their clubs. Senior flex shafts are for golfers who swing around 70-85 MPH on average.
Choosing the senior flex on your new driver's shaft isn't as black and white as companies will present to you.
First, senior flex is an approximation rating on the flex of a shaft as the golfer swings the club. Slower swing speeds need more flex to create a whipping action that brings the club through the impact zone squarely.
Golf swings are ultimately about timing, and the flex of a shaft assists in creating the right swing for your game.
Swing speeds between 70-85 MPH are usually the sweet spot for senior flex shafts. This swing speed will produce a drive that goes anywhere from 175-225 yards based on exterior elements such as wind and the firmness of the turf.
If you hit your drives in that yardage range, then the senior flex is an excellent place to start, but seeking the help of a golf professional could help you boost your distance with a more appropriate shaft for your driver.
Beginners and seniors may have a couple of things in common, such as their slow swing speeds. But then not every senior golfer is a beginner, unlike every beginner who is, in fact, a beginner. Some seniors are new to the game while some, due to their age, have witnessed a decline in their speed, strength, and overall power.
Then there are also senior 'savvy' golfers with a low to mid handicap, which means they have entirely different expectations from their clubs.
Lucky for ALL above-50 golfers then that the best drivers for seniors are quite versatile options. Because even at that age, no matter what age you are actually, ripping right down that fairway and gaining as long distances as possible off that tee are truly the highlights of each round of golf you play.
So let's get to know those drivers that bring about accuracy and forgiveness and, at the same time, those that may be a more proficient senior golfer might appreciate in case he/she happens to focus more on distance AND feel.
Is the Driver Forgiving?
Only the most forgiving golf driver is one that can truly benefit a slow-swing senior player. But then what does the term forgiveness mean? In non-technical language, it just means a massive sweet spot. Only when the impact surface on that clubface is larger do your off-center shots become playable.
So avoid buying a driver with a clubhead that's small or maybe even regular-sized. To be more precise with you, by larger, I mean the maximum legal limit. And that's 460cc.
Does the Driver Go LONG?
When over 50, your swing speed isn't going to be the same. For many, it declines. So it becomes more and more difficult for you to get your shots to travel far or even roll more.
But then, thanks to modern technology, you can bridge the gap with the help of golf drivers that are easy to hit and, at the same time, add extra yards to your every drive.
Is the Driver High-Lofted?
Think about your driver loft very carefully. If your swing speed is slow, you need additional loft than standard.
The standard loft angle on golf drivers is 9 degrees, 9.5 degrees, and 10 degrees. It's from 10.5-11 degrees onwards that loft starts to increase bit by bit. And senior golfers surely require that extra 1-2 degrees of loft for hitting higher off that tee AND longer too.
Is the Driver Adjustable?
A fixed loft angle, however, is not the most ideal situation because every shot off the tee is different. So how about an adjustable loft instead? You choose your loft configuration at the time of buying and the brand also allows you to move slightly higher or lower in case you want to optimize launch, trajectory, ball flight, etc.
In short, with an adjustable loft or hosel, controlling the shape of your shots along with height and distance becomes possible.
Then there's another form of adjustability – adjustable weights. You can move these weights, which is really the location of the CG, behind the driver clubface. Therefore, the weights are set wide apart, so more energy is placed behind the ball at impact. This, in turn, adds more distance to your drives.
Is the Driver Shaft Lightweight and Flexible?
There is Senior-flex precisely constructed for the benefit of senior golfers with a slow swing speed. And you should absolutely always play the right shaft flex if you don't want your errors to blow out of proportion.
With a more flexible shaft, Senior that is, you can get your golf ball to launch higher more easily. Because if the shaft has a too stiff flex, squaring up that clubface is just next to impossible. Also, too stiff means wayward drives and not straighter, longer shots on their way to your desired target.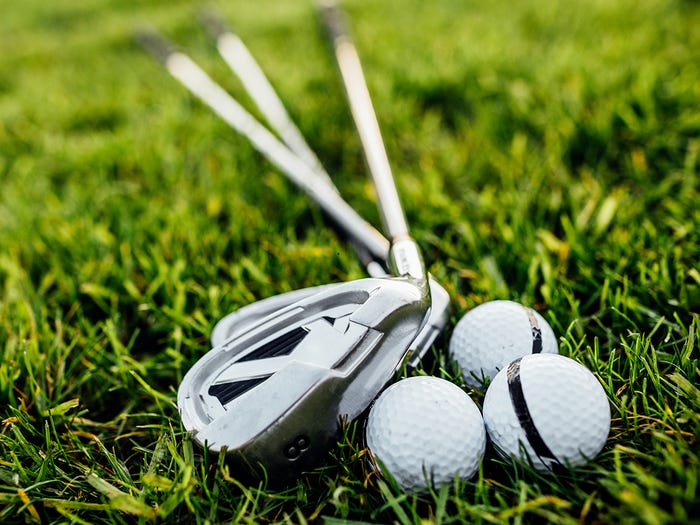 Then there's also the matter of shaft material. Lightweight graphite is much easier to swing if you're a slow-speed golfer as opposed to heavier steel that's often preferred by Tour players because of their faster swing speed.
Is It A Low-Spin Driver?
Spin is crucial in that it creates stopping power. But then be mindful about over-achieving and under-achieving this spin. With too much spin, the golf ball gets high up alright but then it cannot travel far at the same time. While too little spin results in a weak launch and poor distance.
Hence, striking the perfect balance here with spin is a must. One thing that welcomes well-balanced long-game or driver spin is the CG location. When the center of gravity is positioned lower, you can attain optimal launch with optimal spin.
Is the Grip Soft and Comfortable?
For seniors, this part is just as important as having a massive sweet spot on that clubface. A grip that's hard and firm is certainly not going to help any older golfer. And not only because of common age-related concerns like arthritis but also because just plain gripping the club with your previous strength is not possible anymore.
Hence, the popularity of rubber grips instead of full corded grips.
Even the grip size matters. A larger size is better in case you have arthritic hands or just lack the grip strength from the young old days.
Those choosing to stick with standard grips, try midsize and see if that feels comfortable without adding any tension.
How Affordable/Expensive Is the Driver?
The more recent golf drivers are definitely more expensive than the previous models. Let's take the TaylorMade M series as an example. M1, since it's the oldest model in terms of the year of release (2017), is not as high priced as the latest M6 driver (2019). In this case, the factor of quality remains the same, but technology differs.
But then, more often than not, senior golfers buy on a budget. So you might as well opt for that route too; just make sure this budget-friendly pick is a suitable choice for you that's also well-known for its long-lasting shelf life.
WRAP UP
Best Driver for Older Golfers – There's no denying that no one can beat father time. Losing our youth affects how we play golf. The swing starts to slow down, and the golf ball won't travel as far as it used to be. But does it mean that we should stop playing golf? Not exactly.
Over the years, companies developed drivers for seniors. Between senior golf clubs vs. regular ones, the designs are slightly different. With the aid of science, senior clubs are designed to help senior golfers to optimize their performance. We've come up with a list of some of the best golf drivers for seniors. You'll be able to compare and weigh your options fit your needs and requirements.