Best Driver for Mid Handicap Golfer – If you are a mid handicap golfer, you should have no trouble finding a new driver. The majority of the best golf drivers put out by manufacturers are built for the mid handicappers. With all the options out there, it can be a bit tricky to narrow down which will be the best for your game.
We have done a bit of the work for you; here are the best golf drivers for mid handicappers.
As golf courses get longer and longer, there has never been a more important time for mid-handicappers to get more from their driver.
A new driver with optimized features can give a mid-handicapper up to 20 yards instantly on their drive. Simply put, longer drives can bring the golfer better birdie chances and lower scores.
Most amateur golfers use substandard or old equipment that limits ball speed and launches angle. It is vital in this modern era of golf to play a driver that lifts the ball to give the amateur golfer maximum carry for increased distance.
ROUND UP
1.TaylorMade SIM MAX
The TaylorMade SIM Driver became popular after the company signed up big names such as Tiger Woods. But the TaylorMade SIM Driver is something that goes beyond just marketing. For starters, the SIM on this driver stands for Shape in Motion.
The SIM Driver was released when everyone thought that the company is going to release the M8 after the M7 model. The reason for this move is because of their existing club technology. Their technology was already hitting the maximum ball speed limit that they can't develop their series any further.
The SIM Driver was made for golfers to improve their shot without completely abandoning previous progress with their club technology. They applied a more aerodynamic shape making it one of the best golf club drivers from the brand.
It features an inertia generator that provided the driver an asymmetrically shaped sole designed to reduce drag. It even has weights at the low and the back portions of the clubhead which makes it an ideal forgiving golf driver.
It also comes with corrective face angles that can help straighten your shots and ultimately prevent mishits.
As for the materials, it has carbon, titanium, and steel. And when it comes to the design of its head, it comes with an ultra-low center of gravity and high MOI.
Hands down, it is a good option for the average golfer, but you might want to ready your budget. You might spend less than $600 for this. Plus, this might look a bit smaller than other drivers.
Pros & Cons
---
Revolutionary New Shape with Aerodynamic Asymmetric Sole and Inertia Generator: Designed to provide faster clubhead speed for more ball speed and distance while the rear weight creates high MOI for improved forgiveness
Speed Injected technology for intelligently optimized C. O. R. where golfers typically hit it: Improves ball speed across the face by calibrating each head to the threshold of the legal speed limit
Twist Face technology with slightly larger face area: Uses corrective face angle face designed to overcome inherent golfer tendencies on mis-hits and to produce straighter shots while providing a larger face for more confidence
Multi-Material Construction with Carbon, Titanium and Steel: Creates a head design where weight is positioned precisely in the head for ultra-low CG and high MOI
2-degree Loft Sleeve: Provides adjustability and personalization to optimize the club for each golfer's trajectory and face angle preferences
---
2.Pinemeadow PGX
You may have heard of the PGX Offset Golf Driver as the godsend club to fix slice issues of different golfers. According to one study, 70% of golfers tend to encounter slice problems. That's where PGX Offset Golf Driver enters the picture. It has an anti-slice technology that addresses this problem by most golfers.
If you are in the market for the best driver for low handicap players, you should look somewhere else. The PGX Offset Golf Driver is designed for mid to high handicappers.
Aside from the anti-slice technology, it has a square face and large sweet spot that gives you the edge on the golf course.
PGX has maximized the driver head to 460cc which caters the largest sweet spot allowed in regulation. And if you will be comparing its weight to other drivers, you will notice that it is lighter allowing users to generate more speed.
Aesthetics-wise, it looks stylish with its black matte finish. You also get a green alignment indicator that tells you about your position. This driver has a 10.5-degree loft and a graphite shaft. You also get to choose different flex options that suit your preference.
The only issue that you might not like about the PGX Offset Golf Driver is its short shaft.
Pros & Cons
---
Offset anti-slice Technology
460Cc clubhead
Headcover included ; The matte black finish and white and green gives the driver a clean and sleek look.
Club 1
The offset of the driver helps you square the ball at impact. Having a square face at impact is important and will result in straighter drivers.
---
3.Cobra Golf 2019 F9
The Cobra Golf 2019 F9 Men's Speedback Driver is a top choice for those who are looking to upgrade from the F8 and F8+. The Cobra F9 has a redesigned shape that offers better aerodynamic appeal than its predecessors. It also has a low center of gravity.
There are several aspects of the Cobra F9 design that you might like. The sole shape, featuring Speedback technology, is the one responsible for a low and deep center of gravity. Two interchangeable weights are found in its center chassis, which is a design that has been taken from the F8+ model.  This allows you to get more weight on its center of gravity, lower the spin, and adjust the launch angle depending on how much weight you are going to use.
Next, it has the 360 Aero Titanium tip that gives you the chance to swing with less drag allowing users to generate optimum speed in the clubhead speed. It also made use of a carbon fiber crown in an attempt to redistribute the weight on parts where it is needed.
Unfortunately, the spin that the F9 tends to produce tends to be bothersome to some users. However, what you can do is to put the weight a bit forward and you will see the difference.
Pros & Cons
---
Speed back baffler technology-re-engineered baffler rails and a low, back tungsten weight optimize turf interaction and lower the CG for improved launch and faster club head speed from any lie
High strength 455 stainless steel face-thin, high-strength stainless steel maximizes face flex for increased ball speeds and distance across the entire face
High MOI shape-a 10% larger club head increases MOI, while a lower toe and a square leading edge combine to promote a lower CG and improved alignment for increased accuracy and precision
Back CG position-a fixed, interchangeable weight positioned low and back promotes high towering ball flights and maximum forgiveness
---
4.Wilson Golf Staff D7
To be considered as the best driver club, it is important that the club is well designed with high-quality materials that stand out from the rest. That's what you can expect from the Wilson Staff Golf Men's D7 Driver. It's one of those great golf drivers that perform well especially when it comes to producing long distance and fast ball speed.
It has a 3-piece crown including a Kevlar that has been sandwiched by carbon fiber materials. Its purpose is to minimize vibrations giving users that crisp and sharp sound. RE.AKT Technology used in the design of this club is the one that allows users to have higher club head speed and produce long distances.
There are three loft options to choose from. You can go for the 9, 10.5, or the 13-degree version. The 9-degree version is perfect for those that have developed a high-speed swing. On the other hand, the 10.5-degree Wilson Staff D7 is known for better launch and spin. And lastly, the 13-degree head gives you a higher launch.
Many are comparing the Staff D7 to the Cobra F8. Though the F8 produces higher trajectories, the Wilson Staff D7 produces great ball speed and better distance. The biggest issue with the Wilson Staff D7 though is the fact that you don't get to choose grip sizes.
Pros & Cons
---
Power Hole placement has been optimized for the forged heads, increasing face deflection and contact time between the ball and the face of the iron for more efficient energy return, enhanced ball speed and greater distance.
This proprietary innovation fills the Power Holes as well as the entire chamber behind the face, resulting in reduced vibration for incredible sound and feel.
The forged carbon steel and cavity construction beautifully combines the look and feel of a traditional forged iron with game-improving distance.
---
5.Titleist TSi2 9
Titleist offers a range of 7 different shaft options, with a selection of flex and lofts to suit every swing speed, in the latest materials available. The lightweight graphite shaft will suit slower swing speeds and assist in increasing clubhead speed through the ball.
Two Golf Pride grip options are available with the Golf Pride Tour Velvet 360 a popular choice. The Premium Golf Pride Z-Grip is the upmarket version. Both perform well.
Titleist has introduced a new high strength titanium ATI 425 face insert that is thinner and produces more flex through impact. More speed, stability, and a larger sweet spot improve consistency.
The TSi2 has 4 loft options with the 10 or 11-degree being the best for the mid-handicapper who wants to get the golf ball airborne easily. The lower lofts of 8 and 9-degrees require a good skill level to launch the ball accurately and consistently from the tee.
Titleist has improved the crown shaping at the toe, which creates a good more modern look at address. An improved topline, with a TSi visual aid, assists with the all-important alignment on the tee.
Titleist drivers have always produced a solid, traditional sound at impact, and the TSi lives up to this.
A high-performance driver that will deliver accuracy and consistency. Incredible speed is generated across the entire face, and the lower, deeper CG maximizes distance through the optimized MOI design.
The TSi2 driver is a fast, forgiving, and high launch driver. The low spin qualities ensure better control with less side spin on mis-hit shots. Hitting more fairways will produce improved scores.
Pros & Cons
---
This driver features an ATI Aerospace Titanium face that produces the longest, straightest and best sounding Titleist driver ever
The improved shaping of the club allow it to move faster through the air to increase club head speed and total distance
Its optimized from sole to crown for a tighter launch and spin range up and down the entire face
Adjustable SureFit Hosel, Exceptionally Stable High MOI Design
For players looking for awesome speed and accuracy across the entire surface of the face comes the Titleist TSi2 Driver
---
6.Cleveland Golf Launcher
The Cleveland HB Turbo Launcher has a very tall dominating face and setting up to the ball, it looks like a Cleveland of old. Classic shape and tall face with a massive sweet spot. Definitely in the sleeper category, not many guys will know about this driver and at this price, it's a best kept secret.
The club is light and by light, I mean REALLY light. That might not appeal to everyone but it can definitely help pick up an extra couple mph in your swing. If you're hovering around 85 mph, this little beauty can bring you up to 90 mph and give you a few yards more off the tee.
They just don't waste time with the adjustability on this driver and in all honesty player, I don't ever use the sliding weights or loft-up or loft-down options on the hosel. I don't even know that many players who do anymore.
On the crown, the detailing is similar to PING with cool shapes that make the driver look streamlined and powerful over the ball.
Pros & Cons
---
Turbocharged face - each launcher HB Turbo iron features a turbocharged, high strength steel face that is thinner and hotter for increased ball speeds and explosive distance.
Hollow construction - fully hollow construction along with internal stabilizing ribs provides ultimate forgiveness.
HI bore Crown - the redesigned HI Bore Crown features low, deep weighting to produce an easy to hit, high ball flight.
Progressive hollow shaping - progressive shaping provides a smooth transition from hybrid-like long irons to iron-like short irons. It's a seamless changeover with forgiveness where you need it and control where you want it.
Department Name: Mens
---
How to Buy Good Golf Drivers for Mid Handicappers
What's the best driver for me as a mid-handicapper? This is probably the biggest question that a lot of mid-handicap golfers have in mind. Should I choose an 8-degree driver or go for something else?
As a mid-handicapper, you want a driver that can give you long and straight drives. You also want it to be forgiving and a driver that produces high MOI to get that trampoline effect in your shots.
Manufacturers today have come up with technologies and design that would cater specifically to mid-handicappers. And one of the best things about being a mid-handicapper in the market for top-rated golf drivers is that they have a variety of choices to choose from.
Here are a few things that you might consider.
Performance and Distance
Every driver on our list has been manufactured to increase the distance that players can get. Ball speed is an essential factor to consider and allows golfers to get the distance that they need.
Some companies will use different materials, and others will use technology inside the club head, but the overall result is increased ball speed. Players with slower swing speeds can finally get the distance that they need from the tee.
Most mid-handicap golfers have swing speeds between 80-95 MPH and that's why the best driver loft will normally be 11-13 degrees. An 11-degree driver will produce less spin while a 13-degree driver will be more forgiving.
The second most important thing to look at is the driver loft. The good news is that a lot of the modern drivers are adjustable so you can really fine-tune things to see what works the best for you.
Again, the loft of your driver will somewhat depend on your swing speed. If your swing speed is lower, you'll need more loft to help get the ball in the air. The opposite for faster swing speeds.
What it'll also depend on is how much forgiveness you need. Higher lofted clubs are a lot easier to hit and the same goes for your driver. What's easier to hit, your 3 iron or 9 iron? The same goes for your driver.
If your swing speed is less than 80 MPH you'll want to use a higher lofted driver. I'd recommend a 13 or 14-degree driver for the best results. The extra loft will launch the ball higher in the air, it'll put less sidespin on the ball, and you'll get more distance.
Someone that has an average swing speed (80-95 MPH) should use a driver with a little bit less loft. I'd recommend a driver with between 11 and 13 degrees of loft. If you already hit a lot of fairways, go with 11 degrees. If you need a bit more forgiveness, go with 12 or 13 degrees.
If you have a fast swing speed (over 95 MPH) you can go with a driver with even less loft. You already have enough speed to get the ball in the air and will get more distance with less loft. If you hit a lot of fairways already, go with a 9-degree driver. If you need a bit more forgiveness, go with a 10 or 11 degree.
Brand
Though it is a matter of preference, you also have to take a closer look at which brand you are comfortable with. Also, some golfers stick to a brand or two because of their craftsmanship and technology. And if they tend to release new edition drivers for the year, you don't have to make a huge adjustment to your game.
Club Shaft and length
When it comes to the driver's shaft, you'd notice that some bend more than others. Since the driver is the longest club, it is important to find the right one for you. And if you look at some of the hottest golf club driver options in the market, you get five options.
You can have it extra stiff or sometimes called Pro, stiff, regular, senior, and ladies. So which options should you be going for? You will have to assess your swing. If you can swing fast, the stiffer you want your flex should be. It ensures that lag remains at reasonable levels. This usually permits the ball to remain in the sweet spot.
Length is also something that you want to look into. The allowable driver shaft is from 45.5 inches to 48 inches. The length will usually depend on your height.
The best driver shaft flex for a mid handicap golfer will normally be regular or stiff. A regular shaft is best for people with swing speeds between 80-90 MPH while a stiff shaft is best for people with swing speeds between 90-100 MPH.
The most important thing you can do is pick the right shaft flex for your swing. If you don't then you'll have less power and zero control over the ball.
What you'll need to do is figure out your swing speed. Once you know your swing speed then it'll be really easy to figure out your ideal flex. If you don't know your swing speed then you'll want to know your average driver distance.
If you're someone who hits the ball under 200 yards your swing speed is probably less than 80 MPH. If that's you, the best shaft flex will be senior or ladies. The extra whip will give you more power and you'll be able to get the most distance for your swing.
Someone that hits the ball between 200 and 240 yards probably has a swing speed between 80 and 90 MPH. This is where most golfers are, and if that's you, the best shaft will be regular. You'll get a good balance of distance and control over the ball.
If you normally drive the ball between 240 and 275 yards your swing speed is likely between 90 and 100 MPH. This is where most low handicap or younger mid handicaps are. The perfect shaft flex for these golfers is stiff.
Someone who drives the ball over 275 yards probably has a swing speed above 1
Weight and Adjustable Weight s
Since we've mentioned swing speed and how it relates to your choice of driver's shaft. This will also affect the ideal weight of the driver.  Some prefer to use lightweight drivers while others go for the heavier versions.
If you have a slow swing speed, better stick with the top golf drivers that are made of lightweight materials. This can significantly add comfort to how you hold the club plus it makes it easy to swing. A heavy driver can significantly decrease your speed and can only produce a short drive. However, if you tend to swing hard, the best driver to buy would be the heavy ones combined with a stiff flex shaft that can give you an additional level of control.
For the modern top rated golf driver, you might even find adjustable weights. In the past, the adjustability of the weight was considered illegal. But since this is no longer the case, it is highly suggested that you take advantage of this opportunity.
This can promote a draw, fade, or even a neutral ball flight depending on how you choose to use the adjustable weights. If you're one of those struggling off the tee, this can be considered a game-changer.
Head Size
Another important factor that you might want to consider is the head size of the driver you are planning to buy. Good golf drivers allow users to hit the sweet spot easier which can lessen the mishits in the process.
But does it mean that a larger head size means a heavier driver? And does it mean that those with slow swing speed can't enjoy?
Since the introduction of lightweight materials on the best golf drivers for mid handicappers, manufacturers had some elbow room to increase the size of their clubhead while still maintaining a decent weight. From metal to titanium, some manufacturers were even able to maximize the clubhead size. However, you also need to remember the regulation that you can't go for anything more than 460cc.
Closed face, neutral face, or adjustable face
You might also want to consider whether you want a closed or a neutral face. What's the difference? A driver with a closed face, better known as a draw driver tends to have an angle in contrast to the shaft. These are also called game-improvement clubs and are meant for those who are having slice problems. On the other hand, you can have a neutral face driver wherein the clubface is parallel to its shaft.
If you wish to have a club that grows with you, you might as well choose a driver that has an adjustable face. You can simply adjust the face using a screwdriver and you get the best of both worlds.
Face technology
Brands have come up with different approaches when it comes to how they design their driver's face. Some made use of titanium while others even went for the lightest option which is carbon fiber. Apart from the material, drivers now have a growing sweet spot. Plus brands are now using a spring in the driver's face. Because of these changes, you also want to make sure that it doesn't go against USGA rules.
Now, why is that that the best driver for average golfer tends to have a spring? Having a spring takes away the spin on your shots which means that you can get your ball farther.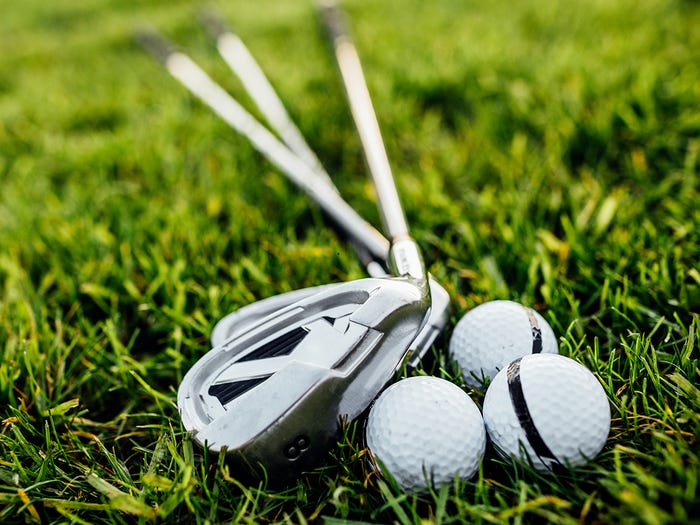 Loft
Driver lofts range from 9-12 degrees. However, some can go as low as 8.5 degrees while others prefer to have the rare 13.5-degree driver. So which option works best? When looking at the loft of golf drivers, remember that smaller angles are designed to get the ball to launch farther on a lower trajectory whereas the bigger angles are for higher trajectory.
Price
Let's agree that some drivers are beyond your budget. On the other hand, an affordable driver also doesn't mean that you won't be getting good results. There are instances when the best cheap golf driver options can compete with average priced drivers. If you are interested in getting the best value driver then it is something that you should consider.
What Is A Mid-Handicap Golfer?
A mid-handicap golfer is someone who normally shoots in the 80s on a par 72 golf course. These golfers are also considered to be slightly above average compared to most golfers.
You're probably someone who gets a lot of bogeys but you'll also shoot a couple of pars and the odd birdie. The average golfer across all ages shoots around 91, so you're in pretty good shape.
This might not be the technical definition of golf handicaps but here's how I look at it:
If you shoot above 90 = High handicap.
If you shoot in the 80s = Mid Handicap.
If you shoot below 80 = Low handicap.
I've found that a beginner golfer who really takes things seriously can break through 90 fairly quickly. The hardest point seems to be going from that point to crossing into the 70s.
Picking the right clubs and balls isn't going to make a huge difference but it can help shave a few strokes off your game. If you're not consistently shooting in the 80s then you might want to read this article instead.
What Should A Mid-Handicap Look For In A Driver?
There are a few things you should be looking at before you go out and blow 400 bucks on a new driver. They actually might be more important than the driver itself, so you don't want to overlook this.
Mid handicappers are probably looking for a lot of the same features as a high handicap would but they also need a bit more versatility for when they get better. Here are the things you need to look at:
The shaft flex.
Your loft.
Head size.
Adjustability.
A lot of what you need will depend on your own personal swing. There's no one size fits all rule, so if you want the best results, you'll have to figure out a few swing numbers. We'll jump into each.
As I said before, a lot of the drivers over the past 5 years are very similar. That's why I don't think it's necessary to go out and buy this year's model. Some of them are current models but a few of them are a year or two old. If I was in the market for a new driver these are the ones I'd consider going with.
WRAP UP
Best Driver for Mid Handicap Golfer – The title for the best golf driver for intermediate players remains to be a debate among different golfers. However, if you are serious about improving your game, might as well choose carefully. Remember that mid-handicappers have specific needs. But the good news is that there are a lot of good products on the market that you could choose from. But before anything else, you might as well consider how you play your game. Do you tend to lag when it comes to your swing speed? Or are you having problems with your accuracy?
Try to compare at least a few products in this list before you make up your mind. Try to see what are your best options considering your budget and needs.
With so many drivers out there to choose from that are designed to help the average golfer, I hope this cleared up some of the options.
The winners are easily the Cobra offerings from the prior two years and the SIM by Taylormade. I've hit so many drivers and the biggest surprise to even make this list is the Titleist TS3. Always remember, the PING drivers are an ever-reliable club that will serve anybody well.